Here's the ultimate question for RV Dealers:
How can I rank my dealership higher in Google?
We all know the value of positioning our RV Dealership on Page 1 of Google. The challenge is how? In this article I'm going to go over 5 tips that you can implement today to help your RV Dealership on the first page of Google. If done correctly, these tips can position your dealership for success now and in the years to come.
The implementation of these tips has help generate 2x – 4x more leads and millions of dollars of additional revenue in under 12 months. Let's get started.
Tip One: Who Is Your Perfect Target Market And How Are They Searching For Your Dealership?
Before we get into achieving Google first page results, we need to know what to Rank for and how your customers are searching for you. To do so, we need to list out all of the services and products that you provide.
Here is an example:
Products : Travel Trailers, Fifth Wheels, Motorhomes, Campers, Toy Haulers etc.
Services: RV Rentals, Mobile RV Repair, RV Consignment, RV Winterization, RV Storage, RV Hitch Installation etc.
Check out the image below: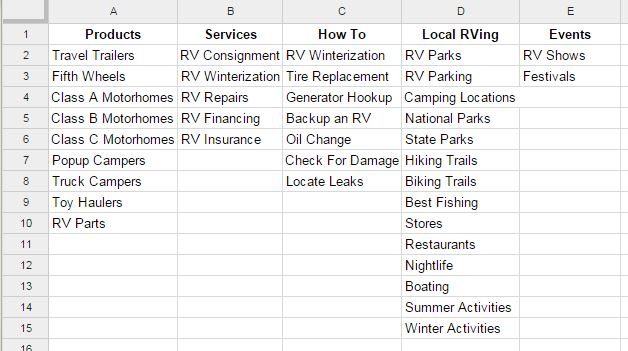 I would recommend creating a spreadsheet like this where you can list out each major category of products or services that you provide. Prioritize your list with products and services and then you can move on to RV How-To tips and local RVing information in your area.
Creating a list like this lends itself to helping clients get the information that they need no matter where they are in the buying process. Whether they are ready to buy a RV today, if they need service today,  or they are just looking for RV How to information or where to go RVing locally.
This is the best strategy for placing your RV Dealership as the authority in the local RV marketplace. This reaches your perfect audience locally for RVing and gives you the best short and long term marketing strategy for ROI. It also establishes you as the authority in everything RVing in your local market. This list tells us exactly what we need to have on our website. Better yet, it tells us how we need to setup our main menu. Which brings us to Tip Two…
Tip Two: Website Structure Setup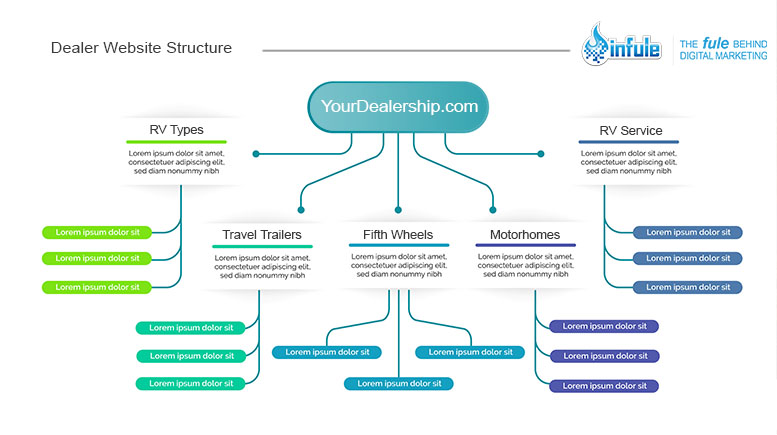 Setting up your website structure will help greatly with getting your RV Dealership on Page 1 of Google. What is a website structure?
Your website structure is your URL structure of your website. So your home page url is typically www.YourRVDealership.com, and your contact url could be: www.YourRVDealership.com/contact-us.html
Why do we care about the URL structure of your website?
Because it gives both Google, other search engines, and your customers everything they need in terms of information. It makes it easy for your visitors to easily browse your website to get the information that they need and it makes it easy for Google to crawl and save each page on your site. It's a win, win layout for getting on Page 1 of Google. Your website's structure should be designed using the spreadsheet layout above to point us in the right direction. So our website's structure, or URL, needs to flow like the spreadsheet.
If your dealership sells travel trailers, you should not only have a travel trailer page, but it's URL should be setup similarly to this:
www.YourRVDealership.com/georgia/atlanta/travel-trailers-for-sale.html
You see how that is structured? It tells visitors and Google exactly what our website is about! Travel Trailers for Sale in Atlanta, Georgia. Further, your RV Details page should be structured similarly.
www.YourRVDealership.com/georgia/atlanta/2002-Jayco-Eagle-277-for-sale.html
Isn't this easy to read? Does your website's URL read like this? It should and if it's not, it's killing your traffic and sales! You will need to do the same thing for services, how to tips and each category you have. For example, your website structure should look like this:
www.YourRVDealership.com/service/atlanta-rv-winterization.html
www.YourRVDealership.com/rv-how-to/rv-bearing-repacking-instructions.html
www.YourRVDealership.com/atlanta-rving/best-rv-parks-in-atlanta.html

I know it seems time consuming, and it is, but it doesn't all have to be done at once. Make a plan to tackle one column at a time and before you know it it, you'll be done.
Tip Three: Page Layout Tips
Once we have our website structure in place for each main topic, we can start the process of building some of the sub-pages of our site. For instance, under the main category of Travel Trailers, we will list our all of the Travel Trailers that we have for sale. And we will do the same for all of the class types that we have under products. Now that we know the general website structure, we need to design our pages for sales and conversion. Here's how. Take a look at how Amazon designs their landing page: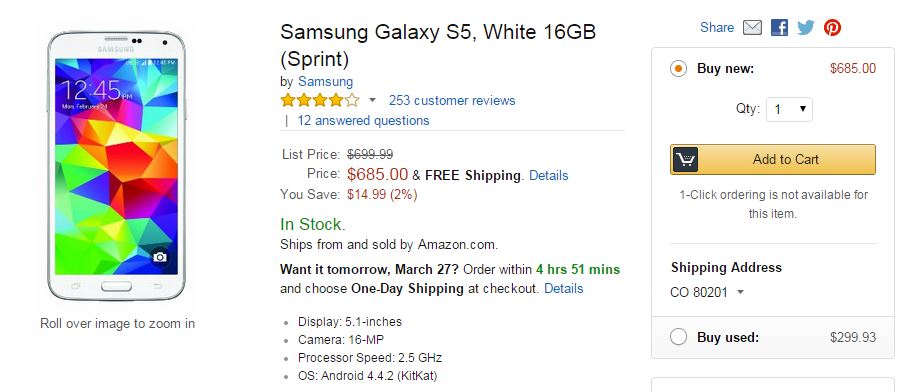 If you look at this landing page, your RV Details page should be designed similar. Think about it, Amazon, Ebay and other major online retailers have spent millions and millions of dollars testing conversion and this is what they have come up with. So, let's use their ideas and implement it on your RV Dealership's site. Place your images on the left, followed by a couple quick tips about the RV (Title, Price, small description and a couple bullet points) followed by a email us button or phone number as your call to action. You can place all of the details of the RV and long description below the fold, but the pertinent sales info must be above the fold. See, this is pretty simple right? It's just knowing what to do and breaking it down step by step!
Tip Four: Content Creation
I can't count the number of times I've been to RV Dealer website where they are trying to sell a $50,000+ RV and they barely have any content on the page. They list have the specs of the RV… if that. My response is…. ARE YOU KIDDING ME!!! Would you invest $50,000 of your hard earned money in a company if they only show you a picture of an RV it's price and "Call Me" button?!?! Heck NO, and neither would your visitors…. I mean ex-visitors!
I'm not trying to get you angry here or be abrasive if your website looks like this, but you spend lots and lots of money to drive visitors to your website and wonder why your phone doesn't ring.
Your website still has to follow the age old sales techniques…. Amazing headline, descriptive sales content, testimonials, image and a "light your hair on fire" call to action.  Remember, your website has to be your best version of your "Best Salesperson"… period! Your website has to do everything that your best salesperson does. Or else your visitors will leave!
To become the leader in the industry we need to SELL online and not just list the details of an RV. Here is the content that you need for each RV:
Above The Fold:
Title of RV (Year, Make and Model)
Image Gallery / Video Walkaround
small description: 250 Characters or less
Top 5 Bullet Points: Example: Colors, length, weight etc
Testimonial
Stop Dead In Your Tracks call to action. Why would they ever want to step one foot on your dealership's lot?!? And it's not only about price!
Below The Fold:
The first thing I would recomend is a video walkaround for the RV. Have two guys (one holding the video recorder or cell phone and another team member reviewing the RV) walk around the RV and talk about the features and benefits of the RV. Talk about how it compares to previous models as well as how it compares to other RVs in it's class. Why? BECAUSE BUYERS WANT TO KNOW!! And it sets you apart in the industry. It gives your dealership a way to talk to your customers and build a rapport other than meeting them personally on the lot.
Your website visitors will come in and specifically as for a sales member because they saw them online and feel like they have a connection. And it's all from a video!
This step is huge! After you created the video, upload it to your dealership's Youtube page and put the Title, Short description and the full URL of that RV in the description of the Video.
Then you will need to transcribe the video and what was said into a word document in order to put it on the site. You can either do it yourself, pay a college student to do it, or outsource it for $2 / hr for somebody on Odesk.comto transcribe it. I've used Odesk quite a few times for mind numbing tasks like this and it saves tons of time and money! So why are we doing this for each RV? We are doing it for a couple reasons.
Because Google LOVES content and this is the only way that you can tell them what your page is about. The more information that you can put on the page the higher you will rank in Google because of it.
Because laying out your page like this will help with sales and conversion. There are two types of visitors, those who skim and only want the main points and those who read every period. You want your sales page to serve both visitor types.
REMEMBER YOU ARE TRYING TO PRE-SELL THEM BEFORE THEY EVEN STEP ONE FOOT ON YOUR LOT!!! Give them the information that they want!!
HUGE TIP: Once you sell the RV, don't just delete the RV listing! Copy all of the content, images, videos etc and put that content on your blog as a review and keep it forever! This is a fabulous way to drive visitors to your site who are looking to buy an RV. Then at the end of your newly created RV review page have a call to action for the customer to take a look at other RV's for sale in the same class type of the RV that you are reviewing.
For example if you are selling a 2015 Forest River Flagstaff 8528IKWS, you can say "To view other similar 5th wheels for sale, click here." with a link to your Fifth Wheels page. What better way to attract a visitor who is LOOKING TO BUY RVS!!!!!
Bringing It All together:
These tips will make your RV Dealership a million dollars. How do I know? Because This a part of the RV Web Service strategy that we use and has made a million dollars in sales for our RV Dealer clients!
If you don't have time to implement these tips on your own website, give us a call and we'd love to work with you: (970) 639-0777, or you can email us here.
Just because the website makes it easier for us to reach a larger audience doesn't mean that it's easy work. This takes time and when done correctly, can lead to incredible results. To wrap all of this up, these tips are online to help your RV Dealership Rank higher in Google and all other search engines. Not only that, but if you do it correctly, you could be positioned within the top 5 of Google! If you have any questions, please feel free to comment below…