What is the difference between SEO services and PPC marketing for your RV dealership? And which one should your dealership invest in?
The purpose of this article is to show you the benefits of each marketing avenue so that you can optimize your marketing strategy this year and give your dealership the best ROI.
SEO VS PPC Overview:
What is SEO?  SEO is an acronym that stands for Search Engine Optimization.
What is PPC? PPC is an acronym for "Pay-Per-Click".
What is the difference between SEO and PPC?
The fundamental difference between SEO and PPC is that the traffic coming from the organic section of search results is free, whereas the traffic from PPC is not.
Here is a display of the difference between PPC and organic on the search results page.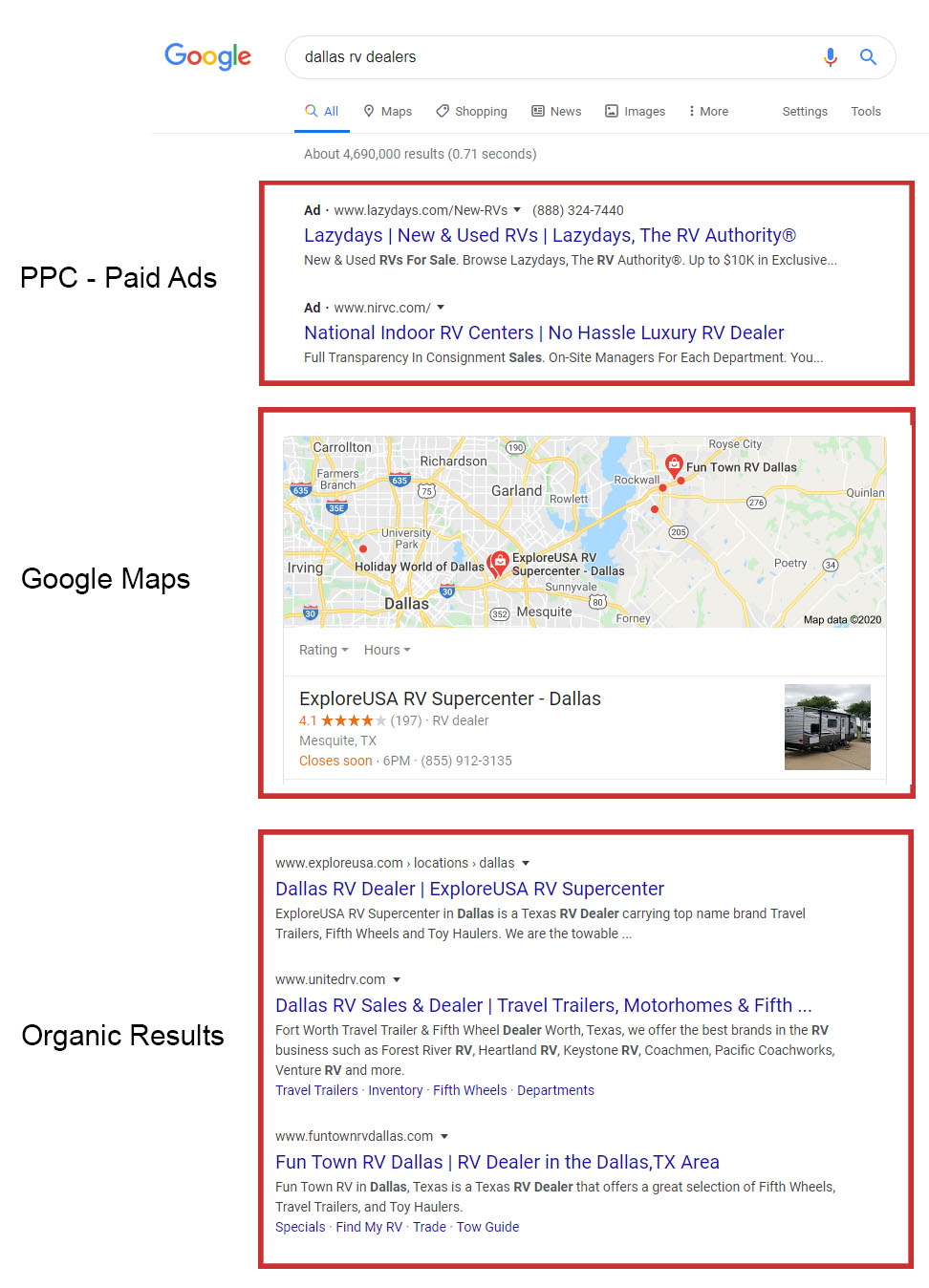 As you can see from the display, there are three main sections within the Google Search Results:
PPC: The paid ads will always be displayed first. Sometimes Google will place the ads at the very bottom of the search results. This will depend if there are a TON of businesses who are targeting the same keyword.
Maps: This is also an organic listing for local businesses. Businesses must have a verified Google business listing within that location to be listed. The results here are based on a couple factors, but a really big factor is the user's proximity to the business.
Organic Search Results: Organic results don't flux for search results as much as the maps location as the rankings depend on SEO. But the better your SEO efforts are, the higher you will rank.
Now that we can see visually how each advertising method is displayed to visitors. Let's get into the benefits of each.
Benefits of SEO: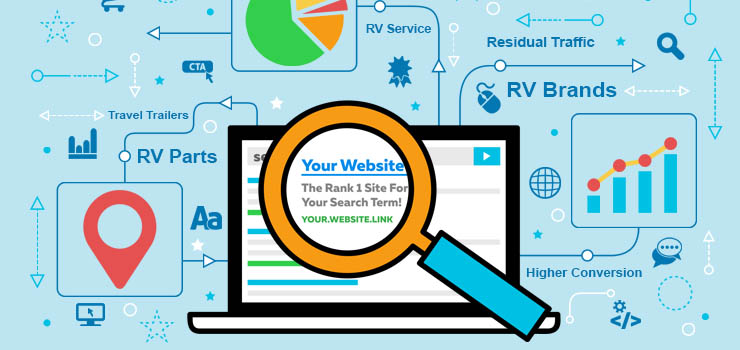 More Keywords To Target
The biggest benefit of SEO is that you are using every page on your website to attract visitors. The more keyword targeted pages that you have on your site, the more opportunities that you will have to drive traffic. So your traffic is limited only by what keywords you can rank for and not your budget!
For example, if you have a page for each RV class type, a page for each RV brand, a page for each RV model, and a page for each RV that you have in stock, you dealership can easily be ranking over 200 pages and thousands of different keyword phrases.
With a PPC campaign where you are drastically limited to what your budget allows and there is no way a PPC campaign can match the ROI compared to SEO.
More Traffic Than PPC
As with the first topic on keywords, because you have the ability to rank hundreds of pages in Google, you are able to drive more traffic to your site month after month.
Greater ROI
Typically SEO (if done correctly) will convert better than PPC campaigns. And because you are able to drive more traffic, you can have an amazing ROI.
Don't Pay For Each Click
This is huge!
If you want to sell Cougar Fifth wheel, which has over 1,100 searches per month nationally, if you can rank your page on the top 5, you can drive a huge percentage of that traffic to your Cougar Fifth Wheel Page each month.
Traffic doesn't instantly go away after your budget runs out
The power of SEO is that you are building a baseline of residual traffic to your business. So if you create a page on your site reviewing a unit, that page can drive traffic to your site forever. Thus the power of investing in something once and getting paid (traffic & sales) over and over.
Business Stability
Because your rankings don't get instantly removed (like PPC), your website traffic and leads are more stable than PPC campaigns.
Con's of SEO:
SEO is Not instant
It takes a little while for Google to rank your page. Typically, RV dealers can see some results within the first 4 weeks of SEO. (However, Google is making this harder to do as they want more PPC revenue).
SEO Knowlege Required  
In order to get your website to rank in Google, you will need to have a general overview of SEO to setup your website and marketing accordingly. This includes knowledge of on-site SEO and off-site SEO.
Google Changes Title & Description
With organic SEO, Google can change the SEO title to coincide with the user's search query. So if you crafted a custom SEO Title for each one of your pages with a unique call to action, Google can change it to better match the users search. This can be good and bad depending if you have a call to action in your title for click attraction. Here's an example of Google changing the title and description.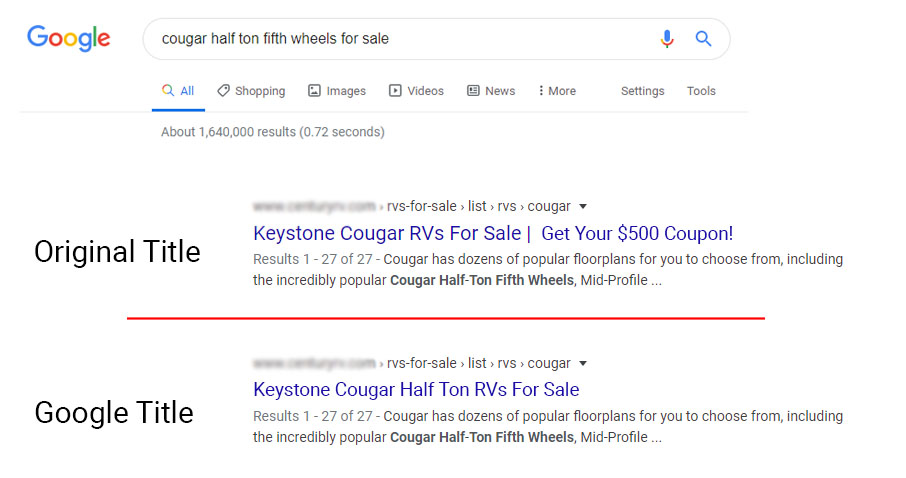 As you can see from the comparison, the title is updated with keyword phrase "Half Ton". The reason is that the text still appears on that page from this dealer, but it isn't in the original title. This could be good or bad.
If you look at the original title, the dealer has a call to action "Get Your $500 Coupon", which would attract more visitor clicks if left in than the Google altered version.
Limiting GEO Location
Google knows where your dealership is located and they do an amazing job of positioning your keyword optimized pages in front of buyers if there isn't any other competitors for hundreds of miles. However, it's difficult to rank outside your home city or state if you want to promote your RV's.
Google Analytics Data "Not Provided"
Google does not show keyword data within Analytics any longer. Yes, you can see some of the data within your Google Webmaster Tools account, but Google is really guarding this data.
The downfall is that you can't see what keywords are driving the most traffic and sales to your business for conversion. Have a look at this screenshot.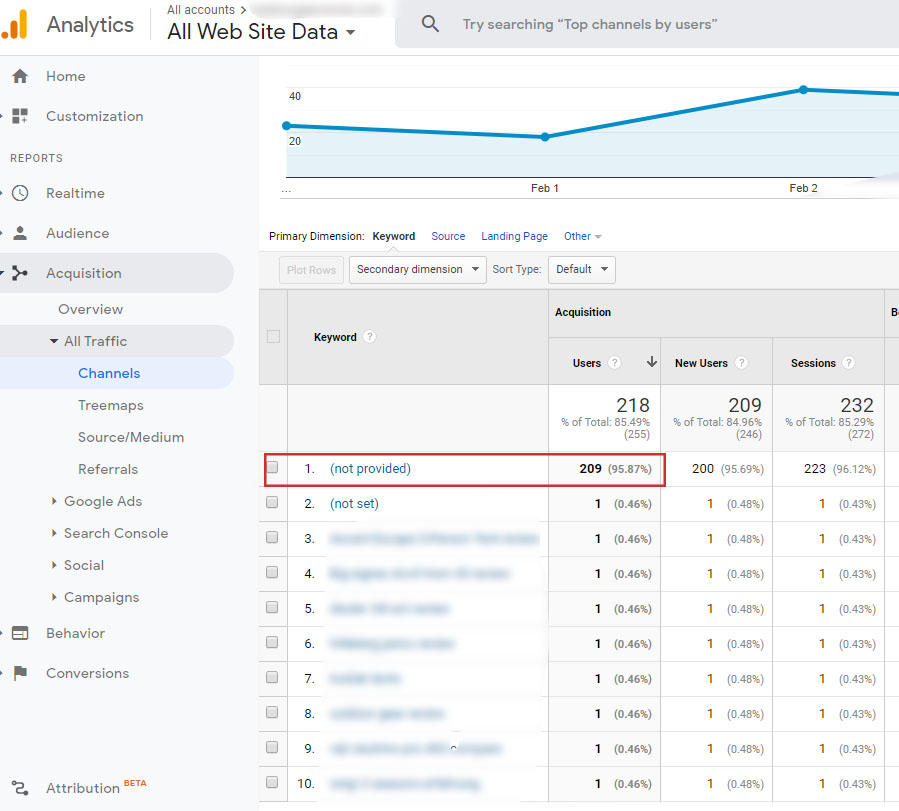 Google hides exact keywords that your traffic came from. Even if you use the Google Keyword planner, they put ranges next to their keyword traffic.
The ranges are 0-10, 10-100, 100-1,000, 1,000-10,000 and more. Gee thanks Google, this is about as vague as you can be!
Benefits of Pay-Per-Click: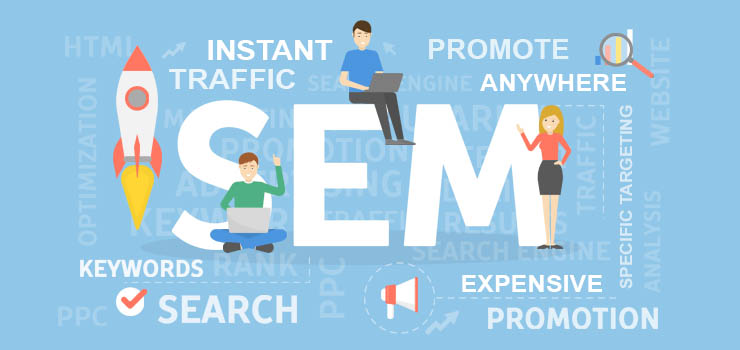 Pay-Per-Click is also called SEM (search engine marketing) or Digital Marketing.
Displayed First In Results Screen
As you may have notice in the layout above, the Ads are displayed at the top of all other results. This can increasing your brand awareness. However, it may not be what customers click on depending on the keyword phrase.
Keyword intelligence
want to know exactly what keywords visitors typed into Google when they clicked on your ad? A Google PPC campaign will give you all of the exact data. Not only that, but Google will also show you how many impressions (how many times your ad was shown).
Customer Demographics data –
When you pay for a Google Adwords campaign, Google will give you all of the details behind your users. This is amazing data to know so that you can customize your website and future marketing campaigns.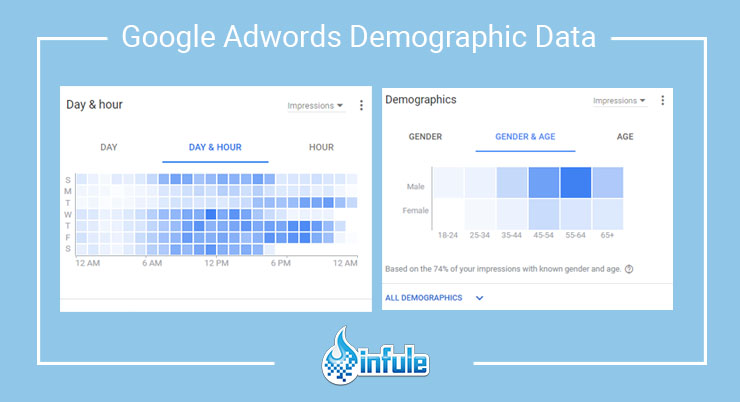 With this example demographic data, we can see that the majority of the visitors are male, between the age of 45 and 64. And they are most active in searching Wednesday at 11am, Thursday and Friday evenings.
This data is incredible for profiling your customers and knowing when to market to them.
Control Over Ad Listings
With PPC campaigns, you have granular control over your ad on the results page. You don't have to worry about Google changing the title or description.
Instant Traffic, Leads & Sales
With PPC you can get instant traffic to your RV Dealership.
Sell anywhere 
unlike organic SEO that's limited to users within a certain radius of your business location, with PPC you can promote your RV's nationwide (if you want… or have the budget 🙂
Easy split testing 
Google PPC makes testing your ad text REALLY simple. Run one ad with two different versions to see which text converts better. Make notes, then create a new test.
Con's of PPC Marketing:
Bidding Wars
No, you are not the only company competing for the top location in Google. And because of that, if you want to rank #1 in the PPC section of Google for a new RV brand (lets say "Cougar RVs For Sale"), then you will have some competition.
And Google will use that competition to drive up the cost per click if you want that coveted #1 Ad placement.
Pay for each click
This may be obvious, but paying for each click is a big CON of digital marketing. Contrary to the benefit of SEO being that you can get a huge chunk of the traffic by ranking organically, with PPC, if you wanted to target Cougar Fifth Wheel, which is currently at $1.10 per click, then it would cost over $1,210 / month to get all of those visitors to your site.
And that's only one keyword!
Limited Scale
You are limited to the number of keywords you can target due to your budget.
As you can tell with the pay-per-click example above, your budget will force you to limit you to a smaller group of keywords, or spread your budget across a large group of keywords with a small budget for each keyword.
Not Residual
PPC is not a long term residual strategy for traffic – Obviously, once your turn off your campaign, your traffic will instantly stop.
Consumers ignore sponsored ads
Let's have a look at ahrefs data for the percentage of visitors who decide to click on paid Ads vs organic for the keyword phrase: Keystone Cougar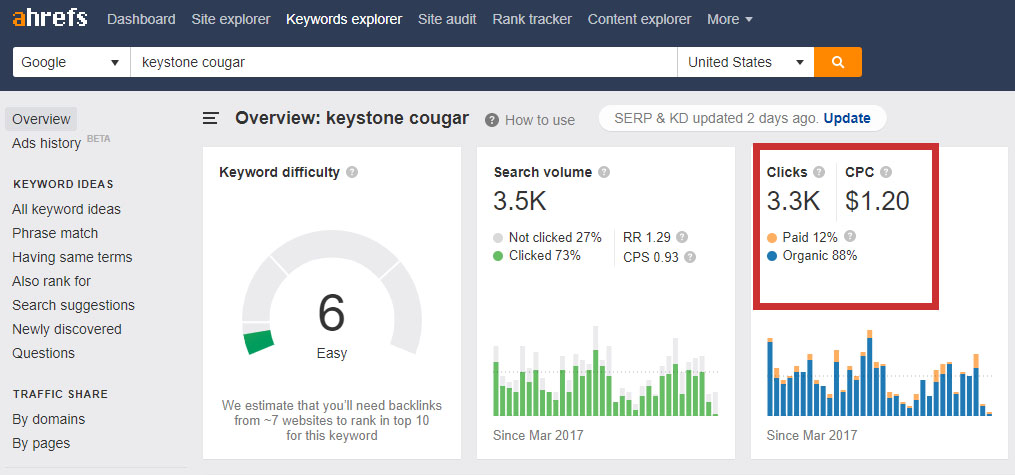 If we take our keyword "Keystone Cougar" with over 3,500 searches per month, there are only 12% of users who are clicking on the Ads vs the organic section.
So 88% of users are going to the organic search results. These percentages will vary per keyword type, but data like this can really help you to know if users prefer PPC or SEO for their keyword.
This way you can vary your marketing efforts.
Should You Hire An SEO Company?
Hiring an SEO company is a tough question to answer as every RV dealership is different. We answered this question in another blog post: Should Your RV Dealership Hire an SEO company
Final Thoughts
As you can see there are a ton of benefits for each marketing avenue. The key point is knowing how to implement both to drive the most traffic to your RV dealership.
Need help?
We're here to help your business succeed online. We're a dedicated RV web service company, so if you have any questions give us a call: 970-639-0777
If you have questions, leave a comment below.